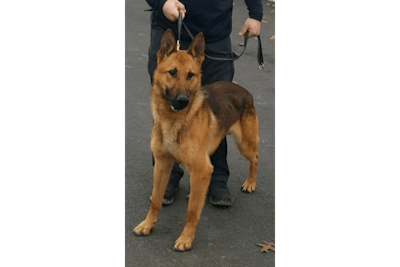 A Troy, NY, Police K-9 was stabbed a dozen times while biting a suspect during a burglary investigation early Wednesday morning.
Police were called around 4 a.m. Wednesday to the Emerald Greens neighborhood after residents reported seeing someone attempt to enter their homes in security footage, Assistant Chief Steven Barker told the Times Union.
While investigating, a police dog led its handler to a wooded area and found the suspect, a 25-year-old Troy resident. Barker said the man lunged at the leashed dog, likely trying to grab it, and the dog bit the man on his legs. The man then stabbed the dog at least 12 times in the back and side with a knife, Barker said.
The Troy K-9, a Belgian Malinois named Norbi, was taken by police to Upstate Veterinary Specialties in Latham for treatment and is in critical but stable condition.
Barker said the man, who was treated for dog bites, will likely be charged with felony attempted burglary and misdemeanor injuring a police animal once he's released from the hospital.