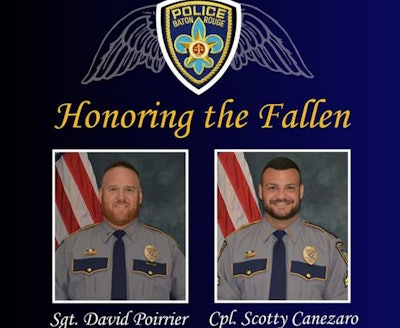 The Baton Rouge Police Department has identified the two officers who died when a department helicopter crashed near Port Allen Sunday.
The victims were identified as Cpl. Scotty Canezaro, age 38, and Sgt. David Poirrier, age 47. Canezaro had been on the force for 16 years, while Poirrier had been with the Baton Rouge Police Department for 17 years.
The men were in the chopper assisting with a vehicle pursuit early Sunday morning, sources told WAFB-TV. When the chase entered another parish, the pilots were eventually called off of the pursuit. Their aircraft crashed as they were flying back to Baton Rouge, sources said.
The Federal Aviation Administration released a preliminary cause of the crash Monday. The FAA report says the "aircraft tail rotor struck a tree and (it) crashed inverted in a field." The investigation into the crash continues and the FAA will determine if the aircraft had any mechanical or other issues that contributed to the crash.