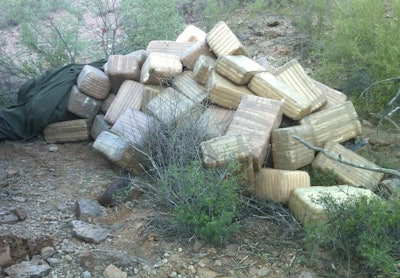 A task force in southern Arizona seized 4,369 pounds of marijuana, 40 undocumented aliens, four vehicles, and three weapons during an operation that involved multiple agencies, the Pinal County Sheriff's Office announced.
During the joint operation, officers made the seizures at several locations over three days, ending Sept. 16. It was geared at smugglers known to move marijuana bundles through the Vekol Valley.
"It is absolutely crucial that we work closely with all of our law enforcement partners to combat drug and human trafficking which is a constant problem, not only for our residents, but people all across America," said Sheriff Paul Babeu. "These tactical details have become especially dangerous for our members as they never know when they are going to be confronted with a cartel member armed with an assault weapon furnished to them courtesy of our own government's botched operation called, 'Fast and Furious.'"
Of the weapons seized, one was a handgun and two were AK-type rifles.
The seized marijuana was worth about $4 million and heading toward Phoenix for distribution, Pinal County Sheriff's spokesman Elias Johnson tells POLICE Magazine.
Of the 40 illegal immigrants apprehended, 11 will face felony charges. In addition, three U.S. citizens were apprehended and will also face felony charges. Several suspected members of "rip crews," who attempt to rob smugglers moving bundles of drugs, were arrested.
Pinal County patrol deputies and members of a regional SWAT unit that includes the Gila River PD and Eloy PD assisted in the operation. SWAT teams from PCSO and the Department of Public Safety initially located a group of seven people at about 10 p.m. Sept. 14 in the valley. The suspects dropped their load of 250 pounds of marijuana and attempted to flee. Three of those people were apprehended.
At about 3 a.m. on Sept. 15, PCSO SWAT members and Border Patrol agents tracked a suspected smuggling vehicle and eventually recovered 2,000 pounds of marijuana. Later that morning at 5:30 a.m., SWAT officers responded to a shooting involving Arizona DPS officers who were targeting a suspected drug smuggler.
Other agencies participating in the joint task force included Border Patrol agents from the Tucson and Tuma sectors, U.S. Customs and Border Protection air and marine agents, Immigration and Customs Enforcement agents, Maricopa County Sheriff's deputies, and Tohono O'odham Police officers.
By Paul Clinton
Related:
How Cartels Smuggle Narcotics Into Arizona (photos)