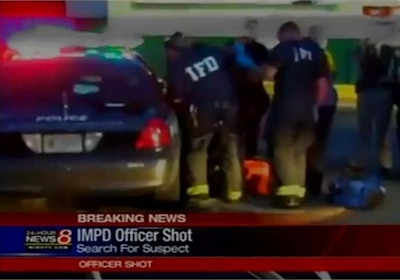 Indianapolis police have arrested a Mexican national and suspected gang member for their involvement in the drive-by shooting of an officer who was filling out paper work in his cruiser.
Eugenio Gonzalez-Ramirez, a citizen of Mexico, and Johnny Taboada-Perez were arrested Saturday and are now being held in the Marion County Jail.
Gonzalez-Ramirez faces a preliminary charge of car jacking and battery with injury. He is being held on $500,000 bond and an immigration hold. Taboada-Perez faces preliminary charges of assisting a criminal, criminal gang activity and possession of marijuana. He is also being held on $500,000 bond.
Source: WISH-TV
Related: Indy Chief Declares War on Those Who Shot Cop (video)