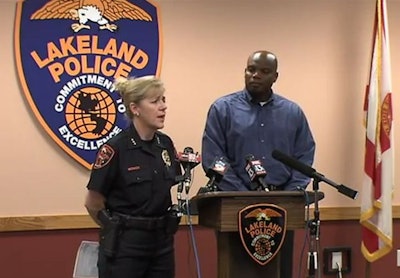 A Florida teenager with gang affiliations surrendered peacefully just after 8 a.m. today, as the suspect in the shooting of a Lakeland Police officer late Sunday.
Officer Arnulfo Crispin, 25, was critically wounded in a 10:15 p.m. Sunday shooting that sparked a multi-agency manhunt for three suspects. The officer was shot in the back of the head, after approaching five people in a park. He was patting down one subject for weapons when he was shot, reports the Miami Herald. He underwent emergency surgery at Lakeland Regional Medical Center.
Kyle Williams, 19, turned himself over to authorities. He's been charged with first-degree murder of a law enforcement officer with a firearm, reports the Tampa Tribune.
Police Chief Lisa Womack and Lt. Al Wilson provided a press briefing on the shooting this morning.