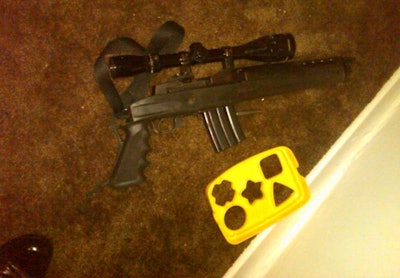 Four NYPD officers were wounded in a Sunday gunfight in Brooklyn with an ex-con, after he held hostage his pregnant girlfriend and their infant son.
Three of the officers were shot in the leg, and one was grazed in the face. None of the four were seriously hurt.
The incident began Saturday evening, after Nakwon Foxworth, 33, threatened employees of a moving company with a gun outside his sixth-story apartment on Nostrand Avenue. One of the employees called 911 and told dispatchers, "He's got a gun. He's got a gun."
Foxworth forced the movers back to their truck and headed into his apartment with the woman and four-month-old child. Anti-Crime Unit officers from the 61st Precinct responded, according to a statement from Police Commissioner Ray Kelly.
The anti-crime officers knocked on the door of Foxworth's apartment, and got no answer. They looked through the peephole and saw a man, woman, and child inside.
They concluded that the woman and child were being held hostage and summoned Emergency Service Unit (ESU) officers and hostage negotiators. An ESU and the hostage negotiation team arrived and were in the process of taking up positions outside of the apartment, when the woman suddenly opened the door and fled the apartment with the baby in her arms.
She told the officers that Foxworth had been holding her hostage and was armed, according to the NYPD. As the six-man ESU team entered, they were immediately fired upon by Foxworth. He had emerged from a bedroom, firing a 9mm Browning semi-automatic pistol.
Foxworth fired 12 times, striking Det. Michael Keenan in his left calf, Det. Kenneth Ayala in the thigh and foot, and Officer Matthew Granahan in his left calf. Capt. Al Pizzano sustained a graze wound to his face.
The gunfight occurred in close quarters, with the assailant and the officers no more than 10 feet apart. Detective Ayala and Officer Granahan returned fire, striking Foxworth in the abdomen.
"A third ESU officer also fired," Kelly said in the statement. "It was a good thing Foxworth was stopped."
Inside the apartment, police recovered three weapons including the 9mm Browning that was part of a multiple-gun purchase in Wilmington, N.C.; a sawed-off assault rifle with a scope that had been stolen from Florida; and a defaced .22-caliber revolver. Officers also recovered 50 rounds for a Mini-14 rifle.
Foxworth was taken into custody in critical condition. The apartment was strewn with guns and baby toys.
Foxworth has a lengthy criminal record. He was released from prison in 2010 after serving 10 years for attempted murder, robbery, and selling drugs in prison. He previously served two years for attempted murder.