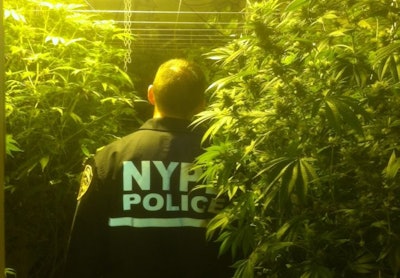 NYPD investigators raided an indoor jungle of marijuana plants Tuesday that reached seven feet in height and likely generated $3 million in drug profits for its owners.
Narcotics investigators discovered 593 plants during the raid of the nondescript building at 610 Morris Park Ave., in the 49th Precinct of the Bronx. Three men were arrested in connection with the grow house.
The authorities found 75 pounds of marijuana that had been cut, dried and packaged in plastic. In all, police seized 1,550 pounds of marijuana from the five-story building. Police estimated that 50 to 60 pounds, with a value of approximately $250,000, were being produced each month.
The three men arrested were Brian Munoz, 24; Diego Reyes, 25; and Victor Reyes, 23. Each has been charged with first-degree possession, first-degree use of drug paraphernalia, and second degree use of drug paraphernalia.