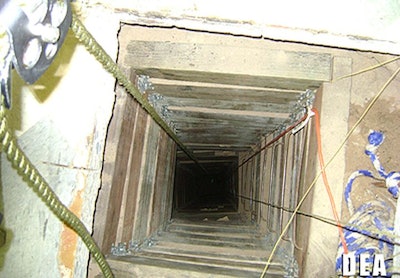 Federal and local authorities uncovered a sophisticated underground tunnel at the California-Arizona-Mexico border with lighting, ventilation, and reinforced beams possibly linked to the Sinaloa drug cartel.
Federal and local agents found the tunnel's entrance hidden under a water tank in a one-story building in San Luis, near Yuma, Arizona. The tunnel then plunged 55 feet down before heading toward Mexico. The 240-yard tunnel with six-foot ceilings rose into an ice factory in San Luis Rio Colorado, Mexico.
The three-foot wide tunnel was reinforced with 4-by-6-inch beams with plywood for the walls, ceiling, and floor.
Agents found numerous 55 gallon drums next the entrance that were filled with soil excavated from the vertical shaft, as well as large plywood boxes believed to be used to cover the pallets of drums for later removal from the location.
As DEA agents searched the business, the Mexican military entered the ice plant. Mexican authorities found numerous bags of dirt stacked to the ceiling in the room where the tunnel's entryway was located.
The tunnel was discovered following months of surveillance on the business after DEA agents observed suspicious activity that indicated the site was being used as a potential stash location. On July 6, Arizona troopers stopped a black Ford F-150 pick-up on Highway 95 for a traffic violation. Inside the bed of the truck, the troopers discovered 39 pounds of methamphetamine. Information gleaned from the stop led the vehicle back to the San Luis location.
So far, three suspects have been taken into custody in connection with the tunnel.
"I'm proud of the excellent work performed by detectives assigned to the Arizona Department of Public Safety's Criminal Investigations Division," said Robert Halliday, director of the Arizona Department of Public Safety. "Their tenacity really made the difference in uncovering the existence of this tunnel."
Other agencies involved in the investigation include the U.S. Immigration and Customs Enforcement, U.S. Border Patrol, and the Yuma County Sheriff's Office.