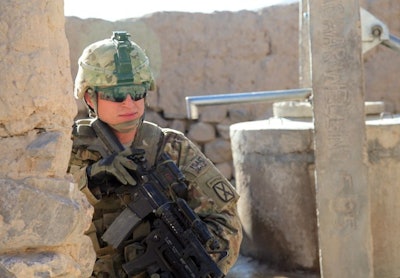 Revision Military has acquired MSA's North American ballistic helmet business, which includes manufacturing equipment and operations located in Newport, Vt., according to the company.
The former MSA facility, which specializes in large-scale production of aramid helmets for military and law enforcement, is a complement to Revision's existing Composite Center of Excellence that outputs highly-specialized, polyethylene composite helmet shells, according to the company. Having both manufacturing capabilities will enable Revision to meet current aramid helmet program requirements while also aiding customers in their quest for lighter weight, higher performance head protection solutions.
Revision has committed orders from the U.S. Army to deliver approximately 100,000 helmets over the 12 months following the acquisition. Additionally, Revision will fulfill the balance of an outstanding contract for 6,000 CG634 helmets to the Canadian DND while continuing to develop current and future helmet business with law enforcement agencies.
This acquisition, coupled with Revision's extensive international experience is expected to be instrumental in meeting demands for aramid helmets on a global scale. Importantly, being able to manufacture and deliver ACH helmets—the platform upon which Revision's Batlskin Modular Head Protection System is carried—will allow Revision to deliver completely integrated and fully modular head and face protection packages to its North American and global customers, according to the company.