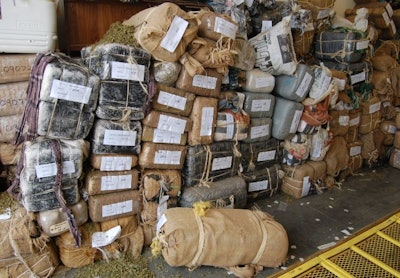 A joint narcotics task force on Tuesday seized approximately eight tons (or 16,000 pounds) of marijuana, recording the largest cannabis seizure in at least 20 years in Chicago.
The bust came after Chicago Police officers and agents with the Drug Enforcement Administration intercepted the shipment, estimated to have a street value of $40 million, from a Mexican drug cartel at a staging warehouse, according to a release from the Chicago P.D.
"A seizure of this magnitude disrupts the operations of those trafficking in narcotics and the impact is felt from the level of street gangs all the way up to the cartel level," said Police Superintendent Garry McCarthy.
Officers assigned to the "Strike Force" received information about the shipment authorities believe originated in Mexico and passed through Texas on its way toward Chicago. Officers made the seizure near a warehouse in the greater Chicago metropolitan area around 5 p.m.
Police seized the marijuana before it could be divided and distributed into the area by local drug suppliers and street gangs. No arrests were made, and the investigation remains open. Illinois State Police and special agents with the Internal Revenue Service's Criminal Investigation Division also assisted in the investigation.