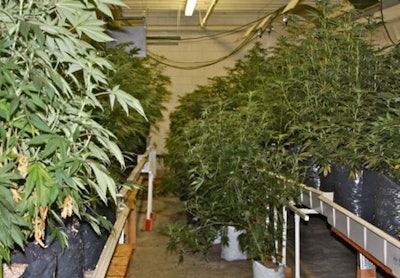 Los Angeles County Sheriff's detectives seized more than 2,000 marijuana plants valued at $10 million from an indoor warehouse grow operation.
Narcotics Bureau detectives acted on information about the warehouse in Rancho Dominguez, and discovered the marijuana at about 4 p.m. Thursday. Members of the LASD Special Enforcement Bureau served a search warrant at the warehouse in the 18700 block of S. Susana Road in Rancho Dominguez.
Once inside, detectives discovered a large sophisticated indoor marijuana grow operation in a 30,000-square-foot warehouse in south Los Angeles County.
The marijuana plants were in various stages of growth. The grow operation had the capability of producing approximately $30 million in marijuana per year.
Five male adult suspects were arrested, according to a sheriff's release.