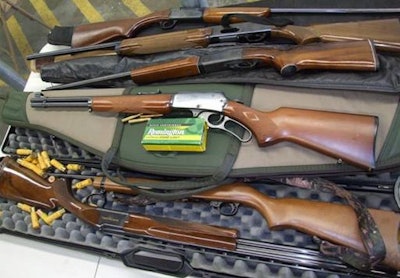 A joint-agency task force arrested 12 suspects and seized nine guns, as officers served arrest warrants Tuesday on members of a Northern California heroin distribution ring.
In addition, state and federal investigators seized marijuana and methamphetamine during Operation Middle Man, a 2 1/2 year investigation led by the state's Department of Justice's South Bay Metro Task Force and U.S. Immigration and Customs Enforcement's Homeland Security Investigations (ICE HSI).
The investigation targeted mid-level operatives that led authorities to Carlos Jose Moreno, the suspected head of a transnational criminal drug trafficking organization, according to state Attorney General Kamala Harris.
"Transnational gangs have become a top public safety threat as they increasingly traffic guns, drugs and human beings into California," Harris said in a release. "I commend the members of the South Bay Metro Task Force and Homeland Security Investigations for their work in identifying and arresting these gang-affiliated suspects."
Utilizing undercover officers and other investigative techniques, agents purchased more than three pounds of heroin. The investigations targeted Moreno, a large-scale heroin and methamphetamine distributor operating in San Jose, East Palo Alto, Palo Alto, and Redwood City. Moreno's organization imported narcotics from sources in Mexico, while the crystal methamphetamine was manufactured in the Central Valley area of California. The Moreno organization is comprised of Norteño gang members with connections to Mexico.
During the operation, which began in December 2009, agents served 12 state arrest warrants and six state search warrants in East Palo Alto, Hayward, and Oakland. Those arrested during Tuesday's operation will be booked into the Santa Clara County Jail and face state charges ranging from conspiracy, residential burglary, firearms sales, sale of methamphetamine and heroin and gang enhancements.