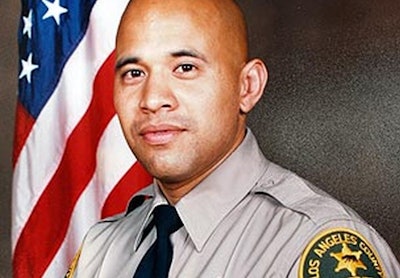 A Sureño gang member pleaded guilty Tuesday to murdering a Los Angeles County Sheriff's deputy in the driveway of his Cypress Park home in 2008, and received life without the possibility of parole.
Carlos Velasquez, 28, also pleaded guilty to one count of a felon in possession of a firearm for the Aug. 2, 2008 slaying of Dep. Juan Abel Escalante.
Velasquez, a member of the Avenues gang, admitted to killing Deputy Escalante as the deputy left his parent's home near Echo Park for a shift in the Men's Central Jail. The deputy guarded the jail's highest-risk members, including Mexican Mafia associates.
Three other alleged members of the Avenues gang—Jose Renteria, Armando Albarran, and Roberto Salazar—have also been charged in the killing. Their trials are pending, reports the Los Angeles Times.
The Avenues is a Sureño gang that operates primarily in northeast Los Angeles County. They have a close connection with the Mexican Mafia and several of their members are also members of the Eme, said Richard Valdemar, POLICE Magazine's gang expert and a retired gang investigator.
"In today's age, it's difficult to be anonymous in the neighborhood because gang members are part of everyone's neighborhood," Valdemar said. "So if you're a policeman, they're going to find out. Anonymity is very difficult to keep up in today's world."
Related:
Los Angeles Times Story Threatens Safety of Key Witness
Third Man Arrested in Murder of L.A. Sheriff's Deputy