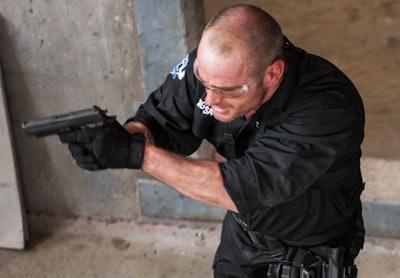 The Outdoor Channel in January will begin airing "Elite Tactical Unit: S.W.A.T.," a law enforcement reality show featuring 14 real SWAT operators competing in challenges.
The 13-week original series, which is now filming in St. Louis, features the competition between special weapons and tactics operators who are vying for $10,000 for themselves along with cash and prizes valued at more than $100,000 for their departments.
The show provides viewers with a glimpse into the mentally rigorous and physically dangerous conditions that professional S.W.A.T. teams are faced with, covering a variety of tactical disciplines from high-risk helicopter rescue missions to close quarters combat. The S.W.A.T. operators are divided up into two seven-person teams—the Blue Team and the Black Team—as they compete in weekly team elimination challenges until two individuals remain. The final two S.W.A.T. operators then go head-to-head in the finale for one last extreme mission.
The show is hosted by Mykel Hawke, a former special forces operator and star of Discovery Channel's "One Man Army" and "Man, Woman, Wild." The series will also feature Terry Schappert, a Green Beret master sergeant and host of the History Channel's "WARRIORS with Terry Schappert." He will serve as team leader of the Blue Team presented by Streamlight. Former New Zealand and United Kingdom Special Air Service (SAS) veteran Adam Hamon will command the Black Team presented by Nosler.
IrTactical, a unit of Universal Electronics, Inc., is furnishing the S.W.A.T. operators with state-of-the-art equipment, including infrared laser-based weaponry, which can trigger the delivery of a temporary high-voltage low-current electrical discharge to simulate real-world effects. They are also supplying the show with other supplies that mimic realistic tactical gear used by law enforcement and the military.
"Elite Tactical Unit: S.W.A.T." is sponsored by Sig Sauer and produced by Winnercomm, an independent sports production company and division of Outdoor Channel Holdings.