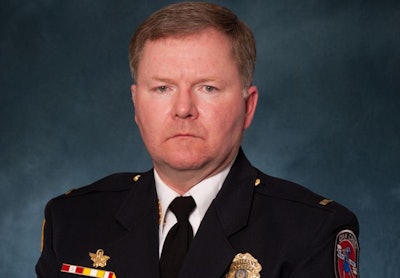 The Wisconsin police officer who was ambushed by the Sikh temple shooter is resting at Froedtert Hospital in critical condition.
Lt. Brian Murphy, a 21-year veteran of the Oak Creek Police Department, was struck by nine bullets fired by Wade Michael Page, who opened fire inside Sikh Temple of Wisconsin at about 10:25 a.m. Sunday.
The 51-year-old Lt. Murphy, a former tactical team leader, arrived at the scene within minutes of the 911 call from inside the temple. After driving into the temple's driveway, he came upon a victim and exited his cruiser to help.
Page ambushed Lt. Murphy, shooting him after the officer came face to face with the shooter. Murphy was shot eight or nine times, including at least once in the neck. He is in critical condition, but officials have said they expect him to survive.
Other responding officers encountered Page and ordered him to drop his handgun. He refused and a SWAT officer "put the individual down" with a squad rifle, Chief John Edwards said at a Monday press conference.
Officers found Lt. Murphy after a PAR (Personnel Accountability Report) check to his two-way radio went unanswered, Chief Edwards said. When other officers found Lt. Murphy, the wounded officer motioned for them to head into the temple, reports the Milwaukee Jounal Sentinel.
Related:
Chief: Officer Response Limited Sikh Temple Tragedy
Sikh Temple Shooter Was White Supremacist, Army Vet