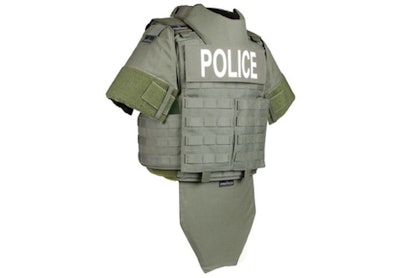 Protech Tactical, a business unit of The Safariland Group, has introduced the side-opening CAV (Core Assault Vest) carrier that allows SWAT units to customize it based on the mission.
The standard CAV package features front and back overlapping ballistic protection and a low-profile, 6-inch elastic side-closure system. The standard carrier is equipped with a front and back modular webbing attachment system to accommodate Protech Tactical TP pouches and accessories, as well as plate pockets on the front and back to hold 10-by-12 inch type 3 or type 4 hard armor plates.
For teams that require 360-degree pouch attachment capability, the CAV can be upgraded by purchasing the optional outer cummerbund kit that includes an outer cummerbund with modular webbing and a split modular webbing platform required to secure the outer cummerbund to the vest while also providing the ability for left- or right-handed doffing.
Other accessories for the CAV include a ballistic collar and throat protector, ballistic shoulders, a pair of ballistic upper arm (bicep) protectors, and a standard ballistic groin protector or an enhanced, diamond-shaped groin protector for greater femoral artery protection.