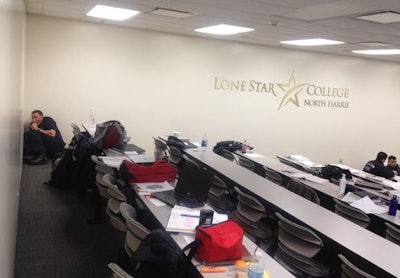 At least three people were shot at a community college in north Harris County on Tuesday morning.
The shooting happened in an administrative building of Lone Star College. The gunman then retreated to the library, reports KVUE. A person of interest has been detained, a Harris County Sheriff's major told KVUE. Tactical units, including the Houston Police Department's SWAT team, are now searching for a second suspect at the scene.
It is believed four people were involved. Both the original gunman and his intended victim were shot, although there appears to be only one handgun involved. A male custodian was also hit. The fourth individual, a female student, required medical attention after the shooting.
One of the persons of interest appears to be a student at the school. The campus was closed, and college officials evacuated students.
Santiago Carmona, a student in the college's paramedic program, tweeted live photos and video of the incident, including photos of a student cowering in a classroom and the Houston PD's armored SWAT vehicle arriving at the campus.