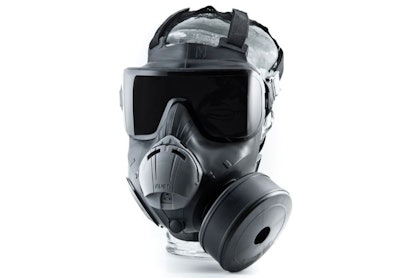 Avon Protection Systems has introduced the PC50 APR, a NIOSH-approved, non-CBRN respiratory device that provides protection against tear gas when paired with the CTF12 canister.
The PC50 was specifically developed and designed for officers tasked with missions such as corrections, riot control, border patrol, or plant security.
Avon claims the PC50 is one of the most comfortable masks available that provides superior protection, and an excellent fit when paired with protective helmets and clothing. The PC50 incorporates a lower profile, a downward exhalation cover that prevents fogging of the helmet visor, and a standard communication port to allow a connection with existing radios.
The PC50 is available in three sizes with either left- or right-hand 40mm canister mounts and includes a six-point head harness designed for comfort and rapid donning and doffing.
Multiple, colored outserts are also available to increase ballistic protection and additional scratch resistance. The mask can be easily fitted with a vision correction system, according to Avon.