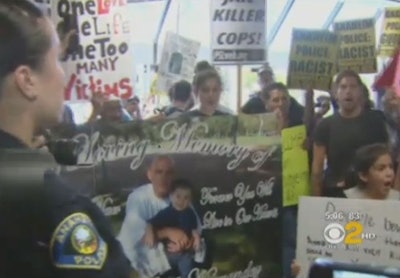 The Orange County (Calif.) District Attorney's Office declined to file charges against an Anaheim Police officer who fatally shot an unarmed gang member in July.
Officer Nick Bennallack will not face criminal charges in the shooting of Manuel Diaz, 25. The officer was on gang-enforcement patrol when he encountered a group of men. Diaz ran from the officers.
During a foot pursuit, Officer Bennallack fired two shots, hitting Diaz in the back of the head and in the right buttock, according to a report by District Attorney Tony Rackauckas.
The officers said they saw Diaz pull something from his waistband and turn. He was found unarmed with a cellphone. A drug pipe was also found at the scene.
The shooting triggered violent protests. More than 20 people were arrested as a crowd of 1,000 protesters clashed with police and damaged businesses in downtown Anaheim. Protestors also stormed police headquarters.
Read the report here.
Related: