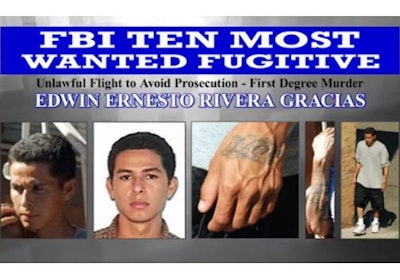 The FBI has added an MS-13 gang member to its Ten Most Wanted Fugitives list for a brutal murder in Colorado, the FBI announced.
Edwin Ernesto Rivera Gracias, who is believed to have fled to El Salvador, allegedly beat and stabbed a 69-year-old man in August 2011. The man's body was dumped on the side of the road.
Rivera Gracias accused of murdering Richard Limon, a long-time acquaintance of his teenage girlfriend. On Aug. 17, a cyclist discovered Limon's half-naked body in Jefferson County. His mouth and nose were covered in duct tape, and he had been choked, beaten, and stabbed. A broken-off blade from a steak knife was lodged in his chest, reports ABC News.
"MS-13 is one of the most violent gangs in the United States, and Rivera Gracias appears to have embraced that lifestyle," said Special Agent Phil Niedringhaus, who leads the FBI's violent crimes squad in Denver.
The fugitive, a Salvadoran national, is approximately 29 to 33 years old with brown hair and brown eyes. He is 5-foot-10-inches tall and weighs about 170 pounds. He has several tattoos, including "MS-13" across his back, "LA" on his right forearm and "Nena" on his left hand.
A $100,000 reward had been offered for information leading to the arrest of Rivera Gracias.