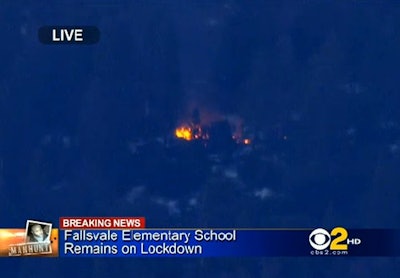 Authorities believe Chris Dorner didn't survive a fire that engulfed a cabin where he was barricaded after two gunfights with officers Tuesday in the San Bernardino Mountains.
Law enforcement personnel surrounded the remote cabin and watched it burn to the ground, while trying to confirm whether Dorner died in the fire. A San Bernardino County Sheriff's spokesman said gunfire was heard before the fire started, reports the Los Angeles Times.
The burning cabin, which officers told media was "Dorner's last stand," followed a pair of gunfights between the fugitive ex-LAPD officer and law enforcement officers attempting to apprehend him.
California Fish and Wildlife officers initially spotted Dorner driving a stolen white pickup truck. Dorner fatally shot a San Bernardino deputy and wounded a second deputy.
A San Bernardino Sheriff's spokesperson told the Associated Press that Dorner never left the cabin, which burned to the ground in live television.
Related: