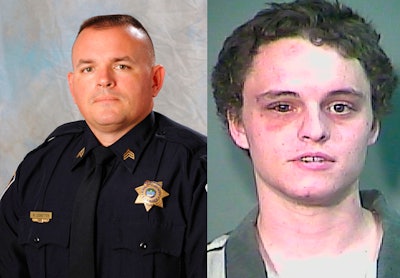 A Knox County (Tenn.) Sheriff's SWAT officer will need additional surgeries while recovering from wounds he suffered in a shootout in a mobile home with a bipolar suspect.
Sgt. Mike Ledbetter, an 18-year veteran, was struck by bullet fragments in his left leg Thursday afternoon during a shootout with 21-year-old Jordan Camp in a west Knox County trailer park, according to a sheriff's office.
Deputies had been searching for Camp since June 16, when he slashed a motorist after a traffic accident. Camp ran into the woods at 1 p.m. Thursday after a deputy spotted him. Deputies eventually caught up with Camp at the Concord Mobile Home Park at 834 Canton Hollow Road.
Knox County Sheriff's SWAT officers entered the mobile home where Camp had barricaded himself in the bedroom. After securing the kitchen, Camp threatened suicide and said he would kill the deputies. When he pointed a Ruger rifle at the SWAT members, deputies opened fire, killing Camp.
Sgt. Ledbetter may have been injured by a ricocheting bullet. Deputies fired 47 rounds. The sergeant continues to recuperate in intensive care at the University of Tennessee Medical Center, according to the sheriff's office.
Camp, who has been diagnosed with bipolar disorder, had been arrested for assault, public intoxication, resisting arrest, and driving while privilege suspended. Camp's father, Rick, told WATE his son "wasn't going to go back to jail. He was either going to kill himself or have someone do it for him."