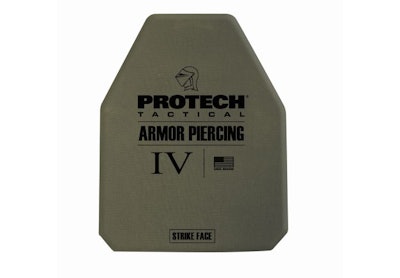 Protech Tactical has introduced its Model 2230 Type IV armor piercing threat plate, according to parent company Safariland.
The plate has met the hard armor plate requirements of the National Institute of Justice's (NIJ) Voluntary Body Armor Compliance Testing Program under NIJ Standard-0101.06 (NIJ-06).
The Model 2230 has been successfully tested to defeat the .30-caliber M2-AP (Armor Piercing) round. It's manufactured with a ceramic-aramid composite and features exclusive "unequal defcon" blunt-trauma-reduction technology. The Model 2230 is a multi-curve plate design with a military-style shooter's cut to offer greater range of motion in the arm and upper chest area while shouldering a long gun.
Th plate measures 10-by-12 inches and weighs approximately 7.5 pounds. It's about 1.15 inches thick. The plate is available now.