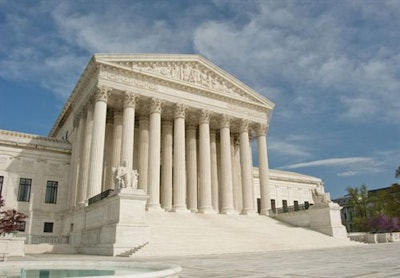 The U.S. Supreme Court has agreed to hear a California case involving a suspect arrested by police after his girlfriend allowed officers to search the couple's apartment.
The court has scheduled oral arguments in Fernandez v. California for Nov. 13, reports Fed Agent. The case will determine the limits of warrantless searches and whether a co-tenant can authorize such a search.
In the case, Abel Lopez was attacked and robbed on Oct. 12, 1999 by a man he later identified as Walter Fernandez, a member of the Drifters gang. After Lopez called 911, LAPD Detective Kelly Clark and Officer Joseph Cirrito responded to Magnolia Avenue and 14th Street. An investigation led them to an apartment in a house just off a known gang alley. The officers heard the screams of Fernandez girlfriend, Roxanne Rojas.
After knocking on the door, Rojas answered with a bruised nose and bloody hand. Detectives requested entry and Fernandez stepped forward and refused. They arrested Fernandez and informed Rojas he was in custody in connection with a robbery. Detectives again requested entry and Rojas consented verbally and in writing.
A search of the apartment revealed gang paraphernalia, a butterfly knife, a shotgun, and ammunition. Fernandez was later found guilty by a jury on the robbery charge. On appeal, he argued the trial court improperly denied his motion to suppress. The appellate court ruled the search was lawful.