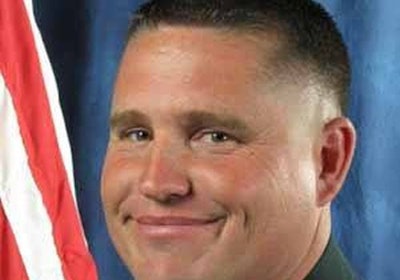 SWAT officers found the barricaded suspect who shot and killed a Charlotte County (Fla.) Sheriff's deputy dead after entering the apartment early Tuesday.
Sgt. Michael Wilson, 42, was fatally shot at about 8:30 p.m. Monday providing backup for deputies who responded to a domestic dispute at the Lakes of Tuscana Apartments in Port Charlotte, the agency announced.
Wilson, a 21-year veteran, was shot once in the chest in the stairwell of the apartment complex in a fatal funnel, Sheriff Bill Prummell said during a press conference Tuesday. The bullet found an opening in the deputy's body armor. Wilson was killed by Jay Banko, a trained marksman with no criminal history. The 49-year-old suspect then took his own life.
SWAT deputies with the Sarasota County Sheriff's Office and Charlotte County deputies entered the apartment shortly after midnight Monday and found Banko dead. Wilson leaves behind three children.