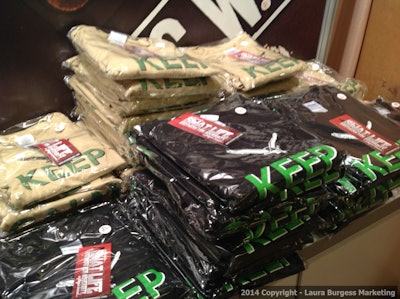 The National Tactical Officers Association (NTOA) raised $1,240 at the 2014 SHOT Show, held in Las Vegas, Nev., Jan. 14–17, 2014 through a Limited Edition "Keep Calm and Breach & Hold" T-shirt fundraiser. T-shirts were provided by SWAT Life. The proceeds will benefit NTOA's James Torkar Educational Scholarship Program, as well as the Training Conference Scholarships for NTOA members.
NTOA's James Torkar Educational Scholarship Program provides funding for college tuition and other eligible expenses to dependent children of "Individual" members of NTOA. These scholarships are awarded directly to the education institution or into a 529 College Savings Plan. Two $2,500 scholarships are awarded in each region (Eastern, Central, and Western). Application deadline is April 1, 2014. For more information and to download a scholarship application, visit
http://ntoa.org/site/member-resources/educational-scholarship-program.html
Training Conference Scholarships provide an opportunity for NTOA members who are not financially able to attend the Annual Conference the chance to go. The scholarships cover tuition and lodging for the winners and are supported by generous sponsors. Scholarship winners are eligible to attend any of the practical or seminar tracks that are available.