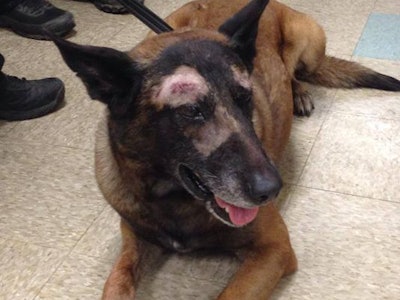 A Mesa, Ariz., K-9 is recovering at home following a standoff with a burglary suspect Saturday night that ended in an officer-involved shooting, officials said.
The suspected burglar, identified as 32-year-old Chad Bogle, was killed during the exchange, but it was unclear if he died from gunshots fired by police or if it was self-inflicted, Mesa Police Department spokesman Sgt. Tony Landato told the Arizona Republic.
Jake, the K-9, was stabbed several times during a standoff with Bogle, he said. The dog was taken to an emergency veterinarian, where he underwent surgery and later was released.