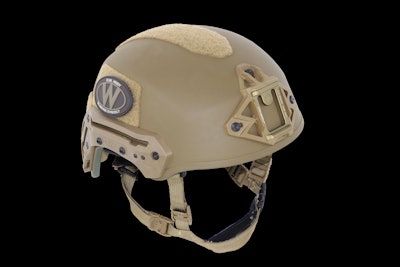 After 15 years of developing leading-edge products that protect against serious and potentially life-threatening injuries, Team Wendy has launched the EXFIL Ballistic, a ballistic helmet for law enforcement and military operators.
The EXFIL Ballistic is the third model in the Team Wendy EXFIL line, following two popular non-ballistic tactical bump helmets: Carbon (released in 2012) and LTP (lightweight tactical polymer, released in 2013).
"We've taken the best features of our Carbon and LTP bump helmets, as well as our helmet liners and retention systems for standard ballistic helmets, and brought them together into one comprehensive ballistic helmet platform," said Team Wendy CEO Jose Rizo-Patron. "The result is a ballistic helmet that is lightweight, customizable and easy to adjust while providing exceptional protection."
With a complete helmet system weight of 2.6 lbs. for Size 1 and 2.75 lbs. for Size 2, a new boltless CAM FIT retention with Boa closure system for optimized stability and fit, cam-lock sliders for positive locking adjustment, and a new Zorbium impact liner with 2 full sets of comfort pads, the EXFIL Ballistic is designed to be comfortable during extended use by military and law enforcement operators.
The EXFIL Ballistic is now available through teamwendy.com and authorized Team Wendy distributors.
Team Wendy develops leading-edge products that serve to protect against serious and potentially life-threatening impact-related injuries. Through its long-standing partnership with the U.S. military and the National Industries for the Blind (NIB), Team Wendy has supplied our men and women in uniform with more than 6 million standard issue Zorbium Action Pad (ZAP) helmet pad systems since 2005. Team Wendy also actively collaborates with world-class universities and organizations to better understand the causes behind traumatic brain injuries (TBI) and to develop products that focus on addressing what actually occurs during impact.