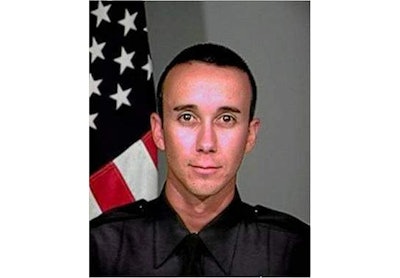 Police Officer Gabriel Garcia is regaining consciousness, nearly two weeks after being shot in the line of duty, Police Chief Jarrod Burguan said at a vigil Thursday night, reports the San Bernardino Sun.
"Within the last 24 hours he's started to regain consciousness," Burguan said, to applause that he followed with caution. "He's still in very critical condition."
In fact, Burguan said, Garcia's ability to hang on so far is "a miracle," but he sounded hopeful as he told a crowd gathered to call for an end to violence that Garcia's family and the Police Department deeply appreciate the community's support.
Garcia, a field-training officer, was shot in the head on August 22 in the early morning hours during a gun battle with a heavily armed man, reportedly a gang member. His unidentified partner, a trainee, was not wounded. The trainee shot and killed the shooting suspect.
Three of the five surviving suspects have been charged with two counts of attempted murder of a peace officer and one count each of possessing an assault rifle.
Jonathan Contreras, 20; Gonzalo Medina, 22; and Orlando Cruz, 24, all of San Bernardino, pleaded not guilty on August 27 to all charges.
Related:
Vigil Held for Critically Wounded California Officer
Shot California Officer Still in Coma
California Officer Gravely Wounded in Early Morning Gunbattle
Blue Porch Lights Show Support for Wounded Officer in California
Recent L.A. Shootings Called 'Open Season' on Law Enforcement