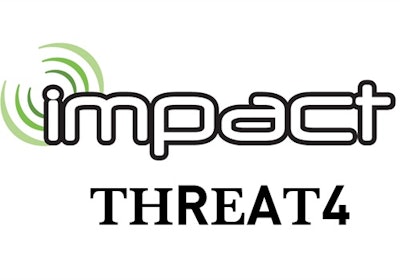 Threat4 Ltd has announced that Impact Radio Accessories has finalized a definitive agreement to acquire the company from its current ownership group. This acquisition is integral to Impact's overall strategic initiative to increase its focus on professional communications, especially in the U.S. and Canadian military and public safety market, according to the company.
"This alliance brings key strengths together that will benefit our dealer and end user customers for years to come," commented Keith Kostek, Owner and Chief Executive Officer of Impact Radio Accessories. "We now have full capability to design and manufacture Canadian and US-made mission-critical headsets, speaker mics and surveillance accessories to complement our core, value-focused lines. Impact already offers the widest range of accessories for every budget and application. The acquisition of Threat4 covers all possible bases from retail and hospitality to SWAT and Navy Seal teams (and everything in between). Truly a 'one stop shop,' we are poised to significantly increase our North American market share in professional wireless communications."
Impact will operate Threat4 as a subsidiary but separate product line and retain sales and engineering functions at Threat4's Toronto headquarters. Impact will task Threat4 to lead with its proven engineering and design capability for continual innovation; leveraging Impact's service and logistics expertise to focus on mission critical quality products for the most demanding users.
"At Threat4, our goal has always been to provide outstanding customer service and the most innovative products," said Patrick Armstrong, VP of Business Development and co-founder of Threat4. "With this acquisition, Threat4 will gain the large corporate scale needed to match and exceed our larger competitors in these areas and ensures excellent support to our customers for many years to come."
Threat4 Ltd designs and manufactures radio communication audio accessories. The company offers push-to-talks (PTTs), high noise and tactical headsets, speaker microphones, throat microphones, ear bone microphones, surveillance kits, and digital (DSP) headsets. Their flagship 62000 series tactical headset was rated 3.9 out of 4 by the U.S. Army ground forces and 4.8 out of 5 by the NTOA. Its clientele include Kenwood USA, US Marines, US Army, US Air Force, Canadian Military, US Marshals Service, US Transportation Security Administration, FBI, Canadian RCMP, and US Secret Service. Threat4 Ltd was founded in 2003 and is based in Toronto, Canada. www.threat4.com.
About Impact Radio Accessories
Impact Radio Accessories is a privately held corporation with headquarters in the city of Kelowna, BC, Canada. With distribution facilities in Wilmington, NC and Kelowna BC, Impact services both American and Canadian dealer partners as well as several international distributors. Founded in 1999 as a North American Accessory Distributor, Impact has grown to become a world leader in the design and manufacture of distinctive communication products for public safety, security, retail, and hospitality. www.impactcomms.com