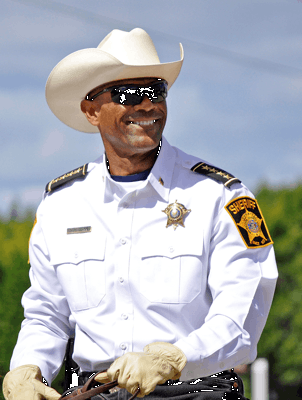 The National Tactical Officers Association (NTOA) has announced that Sheriff David A. Clarke Jr. of Milwaukee County, Wis., will be the keynote speaker at the 2015 Tactical Conference Awards Banquet, to be held Thursday, Sept. 3, 2015. The 32nd Annual Tactical Operations Conference & Trade Show will be held Aug. 30–Sept. 4, 2015 in Salt Lake City, Utah.
Sheriff Clarke is an ardent supporter of the law enforcement community and a dynamic speaker on the issues affecting the profession and the communities that it protects. He is currently serving his fourth consecutive four-year term as the Sheriff of Milwaukee County, after serving 24 years with the Milwaukee Police Department, where he rose to the rank of Captain.
In 2013, Sheriff Clarke was recognized with the Sheriff of the Year Award from the Constitutional Sheriffs and Peace Officers Association. He is a frequent guest commentator on law enforcement, Second Amendment and homeland security issues for national news organizations and associations. In early 2015, he testified at the Senate Judiciary Committee hearing on the confirmation of Loretta Lynch as attorney general, and before the House Judiciary Committee on "Policing Strategies for the 21st Century."
Registration for the 2015 Tactical Conference & Trade Show is open to all active law enforcement officers. Active members of a state tactical association receive a $50 discount upon receipt of a state association ID via fax (215-230-7552) or email (training@ntoa.org). Send six officers from the same agency or multijurisdictional team and the seventh officer's conference registration is free. Registration fee includes practical tracks, seminars, vendor exhibition, SWAT Call Out Dinners and the annual Awards Banquet.
For more information about the National Tactical Officers Association visit http://ntoa.org/ or call 800-279-9127.
About the National Tactical Officers Association
The National Tactical Officers Association operates with Veritas – truth, honesty and integrity – in all its relationships. http://ntoa.org/