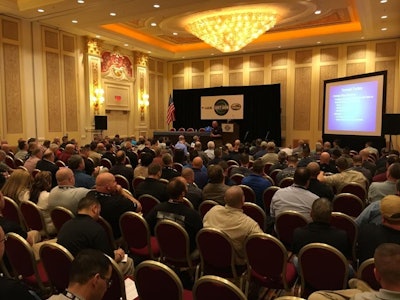 The National Tactical Officers Association (NTOA) announced that the four NTOA Training Seminars offered at SHOT Show 2016, held Jan. 19–22, 2016 in Las Vegas, NV, proved to be a sold-out success and some of the most highly demanded sessions available. The NTOA taught four Law Enforcement Education Program (LEEP) seminars on current hot topics: Active Shooter Update and the Advanced Police Officer, Understanding the 2015 NTOA Tactical Response and Operations Standard, Law Enforcement Response to Suicidal Persons, and Tactical Tips and Truths.
"We were extremely happy with the demand for our courses. The NTOA is looking forward to another year of sold-out law enforcement educational seminars. Hopefully we are able to add additional courses to the 2017 schedule so that everyone who would like to attend is able to," said Don Kester, the NTOA's Director of Training and Education.
As part of the Law Enforcement Education Program (LEEP), participants of the NTOA Training Seminars received a certificate of attendance upon completion, confirming their course participation. This certificate can be used to document training. The LEEP program focuses on teaching protection measures and tactical execution.
This year's SHOT Show saw the addition of a fourth NTOA Training Seminar and continued demand for more information and seminars from its attendees.
For more information on the National Tactical Officers Association, visit www.ntoa.org or call 800-279-9127.
About the National Tactical Officers Association
The mission of the NTOA is to enhance the performance and professional status of law enforcement personnel by providing a credible and proven training resource as well as a forum for the development of tactics and information exchange. The Association's ultimate goal is to improve public safety and domestic security through training, education, and tactical excellence. www.ntoa.org.