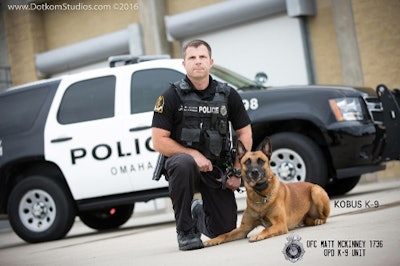 A man held Nebraska law enforcement in a standoff that lasted 26 hours and shot and killed an Omaha Police K-9 before his arrest Saturday night.
The K-9, named "Kobus," had been with the department since 2008.
Mark L'Heureux, 59, surrendered to law enforcement shortly before 7:00 p.m., after walking out of a house near 83rd and Keystone Drive.
During the lengthy standoff, L'Heureux allegedly fired at Douglas County Sheriff's deputies.
Deputies initially went to the home Friday afternoon to serve a mental health warrant. L'Heureux locked himself alone in the home and refused to come out, according to Chief Deputy Tom Wheeler.
Investigators said L'Heureux had several guns and ammunition inside the home so SWAT officials, negotiators, and the Omaha Police Bomb Squad were on the scene.
Kobus was going to be retired in the next several months, KETV reports.