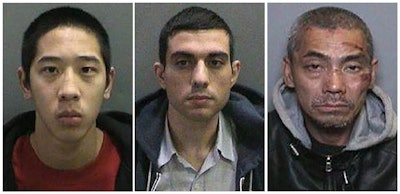 Authorities have arrested five people believed to have links to three dangerous inmates who escaped from a Southern California jail last week, it was announced Wednesday as a manhunt continued with no sighting of the fugitives.
The arrests come as more than 250 law enforcement personnel are searching for Hossein Nayeri, 37, Jonathan Tieu, 20, and Bac Duong, 43, who cut through steel bars and rappelled from the roof to escape sometime Friday.
Orange County Sheriff-Coroner Sandra Hutchens told NBC TV authorities were focusing on a Vietnamese gang active in the Westminster and Garden Grove neighborhoods, but wouldn't say who was arrested or on what charges. Duong and Tieu are gang members, she said.
"Some of them knew these individuals, some of them are either on probation or have warrants," Hutchens said of the five detained.