VIDEO: Ohio SWAT Officer in Critical Condition After Standoff
A 27-year veteran of the Columbus (OH) Police Department shot during a standoff over the weekend remains in critical condition, reports WCMH.
Officer Steven Smith, 54, was shot during an hours-long standoff off North High Street at California Avenue. Officers were serving an arrest warrant around 11:30pm Saturday when the suspect, 44-year-old Lincoln Rutledge, refused to come out. Police say Rutledge shot Officer Smith, who was inside a SWAT vehicle.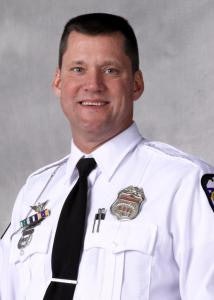 Rutledge was originally wanted on a felony arson warrant for a fire that was set on Saturday on Fairlawn Drive.
At some point during the standoff, the apartment building where the standoff was happening caught fire. Rutledge remained inside as the building became completely consumed in flames.
Finally, around 7:30am, Rutledge was taken into custody and taken to an area hospital.
Rutledge is now charged with felonious assault in addition to the original charge of aggravated arson. He remains hospitalized and will be booked into the Franklin County jail upon his release.