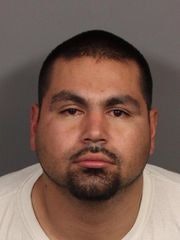 A documented member of a notorious street gang is identified as the man accused of shooting a Riverside County sheriff's deputy and launching a wide manhunt Thursday night in Coachella, CA.
Authorities are looking for Gildardo Davila, a 27-year-old Coachella resident, who should be considered armed and dangerous, according to the Riverside County Sheriff's Department. Court records show Davila is a member of Varrios Coachella Rifa, a violent "umbrella gang" that oversees six to eight other gangs in Coachella.
About 7:45 p.m. Thursday, the deputy tried to pull over a vehicle, but its driver wouldn't stop and threw a handgun out the window, officials say.
The deputy found the vehicle at Calle Mendoza and Las Flores Avenue and the suspect ran from the vehicle, according to the sheriff's department. During a chase through a residential neighborhood, the suspect opened fire with a handgun.
A law enforcement source told The Desert Sun the deputy was shot in the hand and shoulder.