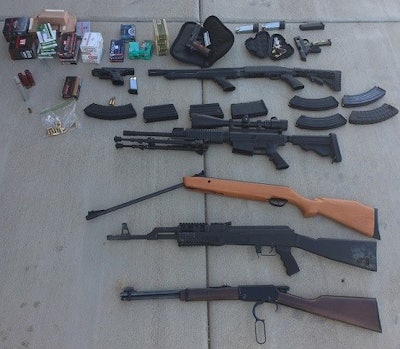 Pueblo County, CO, deputies arrested a Pueblo West man who they say fired shots at deputies and caused more than $10,000 in damage early Wednesday morning while officers interviewed a witness, reports KOAA.
Deputies arrested 43-year-old Benjamin Chavez, who's suspected of three counts of attempted first-degree-murder on a peace officer, attempted first-degree murder, criminal attempt, illegal discharge of a firearm, criminal mischief, reckless endangerment, and possession of a weapon by a previous offender.
Two sheriff's deputies responded to a shots fired call around 3 a.m. Wednesday. While they were interviewing the person who called 911, they heard multiple gunshots nearby and saw several rounds hit the ground near them.
The deputies took cover and said Chavez shot another 15 to 20 rounds at them from a home. Deputies called in the SWAT team and notified residents in the area about the situation.
Chavez eventually walked out of his home around 5 a.m. after a brief standoff with his hands up and was arrested without incident.