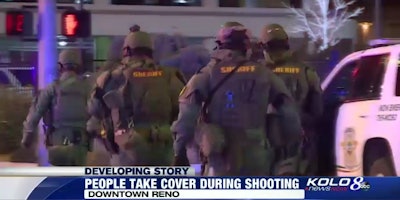 A man suspected of taking a hostage and firing shots into the street in downtown Reno, NV, from a high-rise condominium complex was shot and killed by law enforcement Tuesday night. No name has been released; he is described only as a man in his twenties.
Police say the shooter was barricaded inside the Montage condominiums with a hostage, whom police say is now safe with no injuries. Police believe the suspect and hostage had a domestic relationship.
Police say shots were fired by the suspect within the condo and onto Sierra Street from the east side of an 8th floor unit. Police evacuated the downtown area and closed several streets, which have since been reopened.
The suspect was shot by police and died on the way to a hospital; police initially believed the injuries were not life-threatening, KOLO TV reports