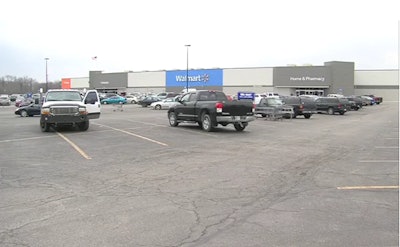 VIDEO: Indiana Murder Suspect Went to Walmart Then Came Back During SWAT Standoff
A murder suspect broke through a police perimeter during a SWAT standoff last week in Terre Haute, IN, then he went to Walmart and came back to a house for a fatal confrontation with police.
Terre Haute Police had the home of Mikey Reynolds surrounded. They say Reynolds murdered his ex-girlfriend and shot another man.
During the standoff, police believe Reynolds escaped from his home through a basement window next to a privacy fence and out of police view. Then he went to another house and to the store, WTHI reports.
Reynolds returned to the second house, where he was killed after allegedly threatening state police SWAT shortly after noon on Tuesday March 6.