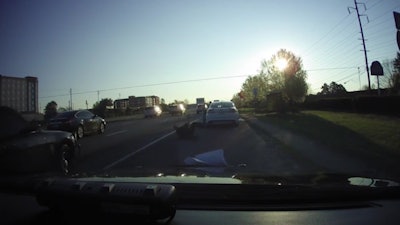 VIDEO: Georgia Officer Dragged 1 Mile While Suspects Toss Guns from Car
A Marietta, GA, police officer conducting a traffic stop was dragged down the road for more than a mile at high speeds, reports the Ledger-Enquirer.
It started at around 7:30 a.m., when Officer Brian Wallace pulled over a white Ford Fusion for a moving violation. Wallace noticed the driver's body language seemed "odd," and also smelled marijuana in the car, so he asked the driver to get out and called backup to help search the vehicle.
But when Sgt. Brian Honea arrived and started walking toward the car, police say, the driver tried to get back in the vehicle, and both officers lunged forward and grabbed him to try to pull him back out.
As the struggle began, a passenger put the car in drive and hit the gas, shooting the car forward while the driver and the officer hung out of the door and wrestled in the driver's seat, police say. Honea was flung to the ground and could only watch as the car sped off into traffic with Wallace pinned in the door.
At speeds as high as 71 mph, Wallace stayed trapped between the door and the seat while the car swerved through heavy traffic and rough, muddy roads, police say.
After a mile, the car came to a stop. One suspect had jumped out of the moving vehicle and fled (he was later found and arrested), and two handguns that had been tossed out of the car were found later by a police dog.
Police say all three suspects, Cory Moody, Eyzaiya Moody and Walter Gadson Jr., are gang members from Massachusetts. They now face charges including kidnapping, fleeing and eluding, assault and obstruction, as well as firearms charges.