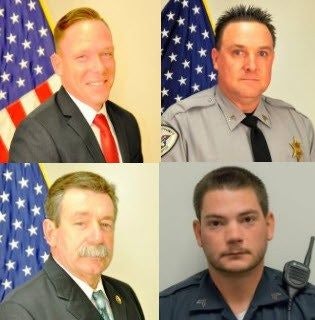 Addressing local media this afternoon York County (SC) Sheriff Kevin Tolson said one of his detectives is "hanging on to life" after an early morning ambush that wounded two other law enforcement officers. A York County SO K-9 handler was also shot earlier during the incident.
Tolson said Det. Mike Doty was "very critically" wounded during a 3:31 a.m. gunfight with the suspect. He addressed the public, saying, "We need your continued prayers." He added that York County law enforcement appreciated the outpouring of support from the community.
Two other law enforcement officers were wounded in the gunfight between the suspect, Christian Thomas McCall, and York County Multi-Jurisdictional SWAT. One of the wounded SWAT operators was York County SO Sgt. Buddy Brown. Tolson said Brown was out of surgery and expected to recover. Another wounded SWAT operator was identified by Chief Andy Robinson of the York (SC) Police Department as York PD Sgt. Kyle Cummings. Cummings' wounds were described as non-life-threatening.
A fourth officer wounded in the incident was identified as Sgt. Randy Clinton of the York County SO. A K-9 handler who was involved in the initial manhunt for the suspect, Clinton was shot around 1 a.m. and rushed to a local hospital by a fellow deputy. His wound was characterized as non-life-threatening.
The incident began with deputies responding to a domestic violence call around 10 p.m. Monday night. Before officers arrived, suspect Christian Thomas McCall had escaped into the surrounding woods. Sheriff's K-9 units and a South Carolina Law Enforcement Division (SLED) helicopter were called in to search for the suspect. The helicopter was reportedly hit by ground fire from a rifle during the manhunt. The crew was not injured.
McCall, 47, was shot and taken into custody during the gunfight with York County SWAT. His medical condition was not released.
He was reportedly assaulting a woman when law enforcement was called to the home. Sheriff Tolson said his deputies had been called to the address previously in 2015. In that incident, McCall was reportedly the victim.