A reputed Aryan Nations gang member is reportedly on the run after wounding a Knoxville (TN) Police Department officer in a Thursday night shooting, reports Knox News.
Officer Jay Williams has been released from the hospital and is recovering from a single gunshot wound he suffered to his shoulder during the attack, police said.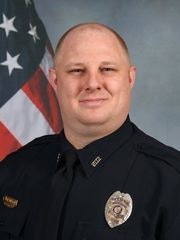 Williams was shot about 8:30 p.m. as he attempted to stop a vehicle for speeding along Washington Pike in front of the Target store in Northeast Knoxville, Knoxville Police Chief David Rausch said.
Ronnie Lucas Wilson, 31, opened fire on Williams with a shotgun while being pursued by the officer, Rausch said. He then stopped his car, got out, and fired multiple rounds at the officer before driving away, the police chief said.
"The officer, as far as I'm aware, did not fire his weapon," Rausch said.
Wilson, who faces a charge of attempted first-degree murder, was added to the state's most wanted list Friday morning, according to the Tennessee Bureau of Investigation.
Police said the suspect might be on the run with a woman who's in danger. A $2,500 reward is being offered for information leading to Wilson's arrest.