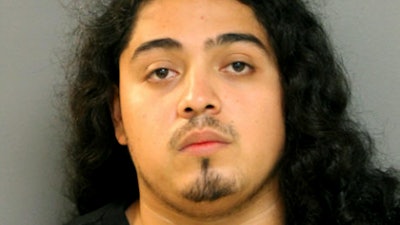 A reputed gang member was charged with shooting a federal agent after surveillance cameras captured him in the area where shots were fired early Friday in Chicago's Back of the Yards neighborhood, according to a criminal complaint.
An agent with the U.S. Bureau of Alcohol, Tobacco, Firearms and Explosives was shot in the face early Friday as he walked near 44th Street and Hermitage Avenue.
The wounded agent was part of an undercover task force that was "covertly replacing" a court-approved tracking device on a suspect's vehicle, according to the eight-page complaint.
U.S. Magistrate Judge Maria Valdez ordered Ernesto Godinez, a reputed Almighty Saints gang member, held in custody until a detention hearing May 17. He was charged with forcibly assaulting an ATF agent with a deadly weapon and faces up to 20 years in prison if convicted, the Chicago Tribune reports.
The area where the agent was shot has been a stronghold of the Almighty Saints gang for more than 50 years, according to law enforcement sources.
The Almighty Saints traditionally feud with the La Raza street gang, whose members are mainly concentrated farther south in Back of the Yards, the sources said. But the Saints also have been in conflict with other gangs farther west in the Brighton Park community and surrounding areas.