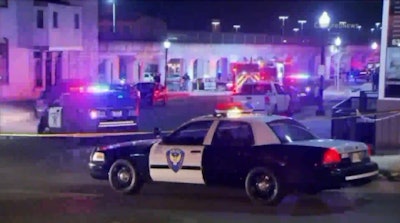 VIDEO: 2 Officers Injured, Man Dead in Illinois Shootout
Authorities say two police officers were wounded and a man has died and in a shootout in Aurora, IL.
The shooting happened around 10 p.m. Thursday. The Aurora Police Department says two special operations investigators followed a vehicle they'd spotted leaving a suspected gang house and pulled it over, reports WGN.
Police say the driver fired at them and sped off before crashing and running away. Police say then the man and the investigators fired shots and the man was fatally shot.
One investigator had a gunshot wound to a leg that was described as non-life threatening and the other investigator had an injury that wasn't gunshot-related, according to police. The officers were treated at a hospital and released.