An armed man who was holding two people hostage in a Eustis, FL, home was fatally shot by Lake County, FL, deputies, authorities say.
The Lake County Sheriff's Office said deputies were called early Thursday to help the Eustis (FL) Police Department with a barricaded person who was holding two hostages, reports WESH.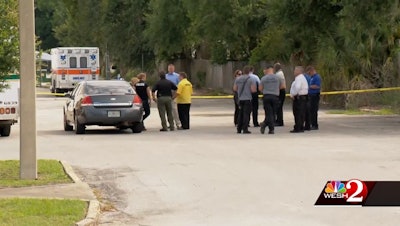 Deputies said Tracy Alan Richards, 55, broke into the home where his estranged wife was staying around 3:30 a.m. Thursday. According to authorities, Richards told the woman and her brother, who was also inside the home, that if they tried to leave, he would kill them.
Eustis police called in Lake County's SWAT and negotiation teams. They attempted to get Richards to leave the home for two hours.
He was shot during a confrontation and has been pronounced dead, the sheriff's office said.
"At that point, gun in his hand, he charged at them aggressively, yelling at them, and that's when they shot to defend themselves," said Lt. John Herrell of the Lake County Sheriff's Office.
None of the hostages or any deputies were injured.