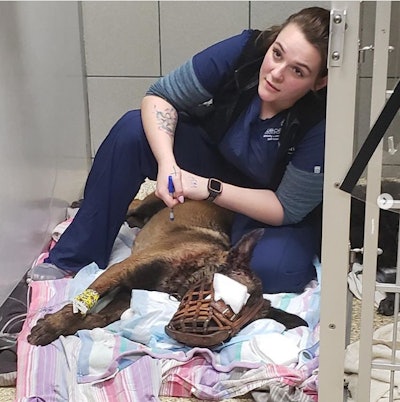 The K-9 with the DeKalb County (GA) Police Department shot during a gunfight at a traffic stop was released from a veterinary hospital on Saturday. Indi lost an eye during the confrontation, but is expected to otherwise recover.
"DeKalb Police K-9 Indi has been receiving the most compassionate and professional care anyone could hope from the staff at the Blue Pearl Veterinary Hospital," the agency said on Instagram.
Although many celebrated Indi's speedy recovery, still more mourned the loss of a 24-year-old police officer who died during the incident that wounded the K-9.
Hundreds of friends, family, and fellow officers paid their respects during a visitation ceremony for Officer Edgar Isidro Flores on Sunday, according to NBC News.
Flores had only been with the department for less than two years, and died just days before his birthday.