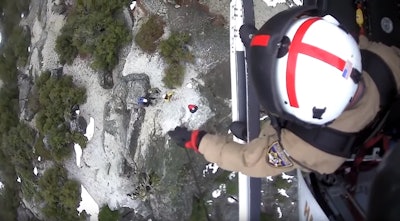 Late last week, the California Highway Patrol Air Unit was called upon to help locate and rescue two hikers at Yosemite National Park. The agency posted video footage to its Facebook page of the ensuing operation.
The agency wrote that "at approximately 0700 hours, California Highway Patrol (CHP) Helicopter-40 (H-40) staffed with Pilot Officer Scott Rodda and Flight Officer/Paramedic Dustin Henschel, responded to Yosemite National Park for a rescue. According to park officials, two male hikers from England, in their mid-20's, had become lost in the snow while hiking in the area of North Dome the day prior."
The hikers had become trapped in a crevasse. As they attempted to descend into Yosemite Valley, they lost the trail in the snow and became trapped. Unable to continue down—due to a 2,000-foot vertical drop—and unable to go back the way they came because of the steep, snow covered ground, they called 911 from a cell phone.
The crew found the wayward hikers, and then landed in Ahwahnee Meadow to meet with Yosemite National Park Search and Rescue and devise a plan.
The crew—comprised of Pilot Officer Scott Rodda and Flight Officer and Paramedic Dustin Henschel—were able to extract the stranded hikers via rescue hoist and deliver them to safety.