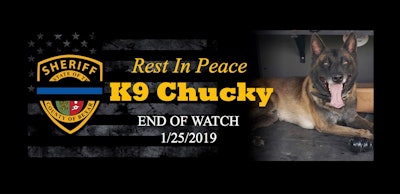 A K-9 with the Bexar County (TX) Sheriff's Office was killed on Friday night when a wanted subject reportedly opened fire on police who had pursued the man for nearly 30 minutes.
K-9 "Chucky" was struck by gunfire as the dog was attempting to subdue the subject.
Bexar County Sheriff Javier Salazar said in a statement posted to Facebook, "Thank you, Bexar County. It has been a very emotional and busy morning, but the outpouring of support this agency has already received from the public has been amazing. We are deeply saddened for our fallen K-9 Deputy Chucky, and for his handler, his human family, and the rest of the K-9 unit. We are in the process of making funeral arrangements and will keep everyone apprised. We are planning full honors, in accordance with the ultimate wishes of Chucky's handler and family. We will keep everyone posted."
According to KSAT-TV, 38-year-old Matthew Reyes Mireles has been charged with interfering with a police service animal, attempted capital murder of a police officer, aggravated assault against a public servant and evading arrest with a vehicle.