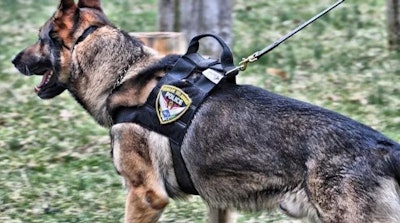 Officers with the Newark (DE) Police Department have been notified of the death of "K-9 Sjors," who patrolled that city's streets for eight years, according to the Newark Post.
Sjors was deployed on more than 800 vehicle and building searches, 83 human tracks, hundreds of burglar alarms and numerous fugitive apprehensions. He and handler Corporal Marty LaRue are responsible for seizing more than $200,000 in suspected drug money and more than 8,000 grams of cocaine as well as thousands of grams of marijuana, heroin, PCP, MDMA, and methamphetamines.
After retiring in 2016, Sjors continued to live with Corporal LaRue and his family as a pet.
Sjors was 12 years old.