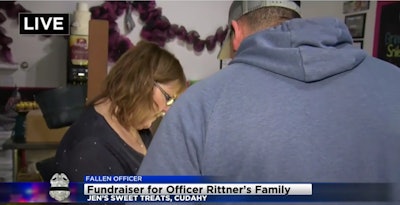 For the second time in a year, Jennifer Clark, the owner of Jen's Sweet Treats in Cudahy, WI, is giving back to a fallen officer's family. On Tuesday, Jen committed to donating all of her proceeds to the family of slain Milwaukee police officer Matthew Rittner. Cudahy is just outside the Milwaukee city limits.
Before the doors of her bakery opened, she had already raised more than $10,000 for the Officer's family through preorders.
Throughout the day, Jen kept busy working around the clock to take orders and bake the goods all herself. Even when the baked goods ran out, Jen stayed open taking orders for pick-up with all the proceeds going to the Rittner family, CBS58 reports.
Rittner, a member of the Milwaukee PD's tactical team, was shot and killed executing a search warrant last week.
Donations for the family are also being accepted at any TCF Bank branch. The title of the account is "Family of Matthew Rittner." There's also a GoFundMe page that has been certified by the Milwaukee Police Department.